One of my dream gadget, fledged with features, with this camera the traditional way of video recording in movies has been changed and hence shooting video become more handy than earlier.
"Chaapa kurisu"
was the first Malayalam movie taken with this camera. and even the greatest Hollywood movie
The Avengers
also taken with this camera.
Canon EOS 7D

Type
Digital single-lens reflex camera
Sensor
22.3 × 14.9 mm CMOS
Maximumresolution
5,184 × 3,456 (17.9 recorded megapixels)
Lens
Interchangeable (EF, EF-S)
Shutter
Electronic focal-plane
Shutter speedrange
30 to 1/8000 s
Exposuremetering
TTL, full aperture, 63 zones
Exposure modes
Full auto, programmed, shutter priority, aperture priority, manual
Metering modes
Evaluative, Partial, Spot, C/Wgt Average
Focusareas
19 cross-type AF points
Focusmodes
One-shot, AI Servo, AI-Focus, Manual
Continuous shooting
up to 8.0 frame/s.
Viewfinder
Optical pentaprism with 1.0x magnification and 100% coverage and electronic (Live View)
ASA/ISO range
100–6400 (expansion up to 12,800)
Rear LCD monitor
3.0 inches (76 mm), 640×480 (921,600 dots)
Storage
CompactFlash (CF) (Type I or Type II)
Battery
Li-Ion LP-E6 Rechargeable (1800mAh)
Weight
820 g (body only)
List price
$1699.00[1]
Optional battery packs
BG-E7 grip allows use of 6 AA cells, a single LP-E6 or two LP-E6 batteries
Made in
Japan
The
Canon EOS 7D
is an 18.0
effective
megapixel
APS-C
crop
CMOS
digital single-lens reflex camera
made by
Canon
.
[2]
It was announced on 1 September 2009 with a suggested retail price of US$1,699.
[1]
[3]
Among its features are HD video recording, its 8.0 frames per second continuous shooting, new viewfinder which offers 1.0X magnification and 100% coverage, 19 point auto-focus system, movie mode, and built-in
Speedlite
transmitter.
[
2]
The 7D has 19 autofocus points arranged in a horizontal diamond pattern. The AF system is a new design which uses a translucent LCD display in the viewfinder. The camera uses
TTL
63 zone color sensitive metering system with four variations (evaluative, center-weighted, partial, spot) and exposure compensation of −3 EV to +3 EV in steps of 1/3 EV.
E-TTL II
flash metering is provided. The translucent LCD can also display guide lines and the spot metering area circle. As with most other video-capable
DSLRs
, the Canon EOS 7D's autofocusing function does not work while recording video. Instead, users can only trigger a contrast-detect AF cycle before recording process by hitting the AF button on the camera's rear panel. Users can manually focus the lens during a recording.
[5]
The shutter is rated to 150,000 shots, and is capable of speeds up to 1/8000 sec, with a
flash sync
speed of 1/250 sec.
The 7D has roughly the same dimension as the
5D Mark II
, with the button layout having gone through an update. It also features a 100% viewfinder with 1x magnification.
The 7D was the first Canon camera with a dedicated movie mode switch, the preceding 5D Mark II and 500D movie recording being done in live view.
The dual Digic IV processors let the 7D reach 8 frames per second continuous shooting. When the camera was first released, the buffer throughput allowed up to 94 frames in large fine JPEG mode, and up to 15 frames in
RAW
. Firmware upgrades, most recently in August 2012 (see immediately below), have increased the maximum buffer size to 130 large fine JPEGs and 25 RAW files.
Firmware updates
Improved maximum burst for RAW images (up to 25)

In-camera RAW image editing

In-camera Image Rating

In-camera JPEG resizing

Maximum Auto ISO setting (ISO 400-6400)

Manual audio level adjustment in movie recording

Support for the Canon GP-E2 GPS unit

File name customisation

Time zone settings

Faster scrolling of magnified images

Quick control screen during playback
On 12 September 2012, Canon introduced the v2.0.3 firmware update with the following changes:[8]
Fix for a phenomenon in which the camera stops working when the auto power off setting takes effect

Fix a phenomenon in which the maximum number of images that can be captured in a burst may be less than the actual number displayed in the viewfinder

Corrections for some errors in the message displayed when saving RAW images developed in the camera
According to Canon's website,[9] the EOS 7D model comes equipped with:
EOS 7D Digital SLR Body

Eyecup Eg

Camera Cover R-F-3

Wide Strap EW-EOS7D

Battery Charger LC-E6

Battery Pack LP-E6

Stereo AV Cable AV-DC400ST

Interface Cable IFC-200U
The Canon EOS 7D's video functions offers an unusually strong feature set that gives the photographer/videographer more control over the videos they create. The camera also offers the ability to record audio from an external source. Both shutter and aperture are available for manual control, and the 7D also provides multiple frame rate options, including three that match the HD television timing specs. Like most DSLR modes, the Canon 7D neglects endless autofocus during video recording, which is a great concern for advanced amateurs with pros likely to focus manually nonetheless. Separate movie clips that are captured by the Canon EOS 7D are limited to twelve minutes in the high definition 1080p and 720p modes, or 24 minutes in the standard definition VGA mode.[5]
Canon EOs 7D
Canon EOS 7D Gallery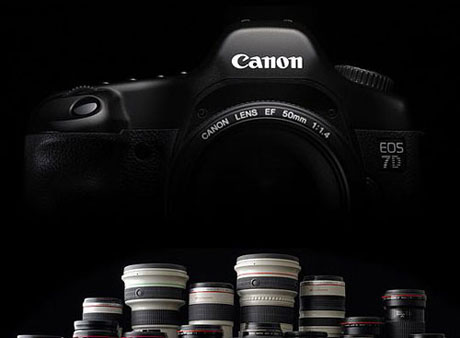 Complete lenses
-->
-->